Do news consumers want to pay for an ad-free experience?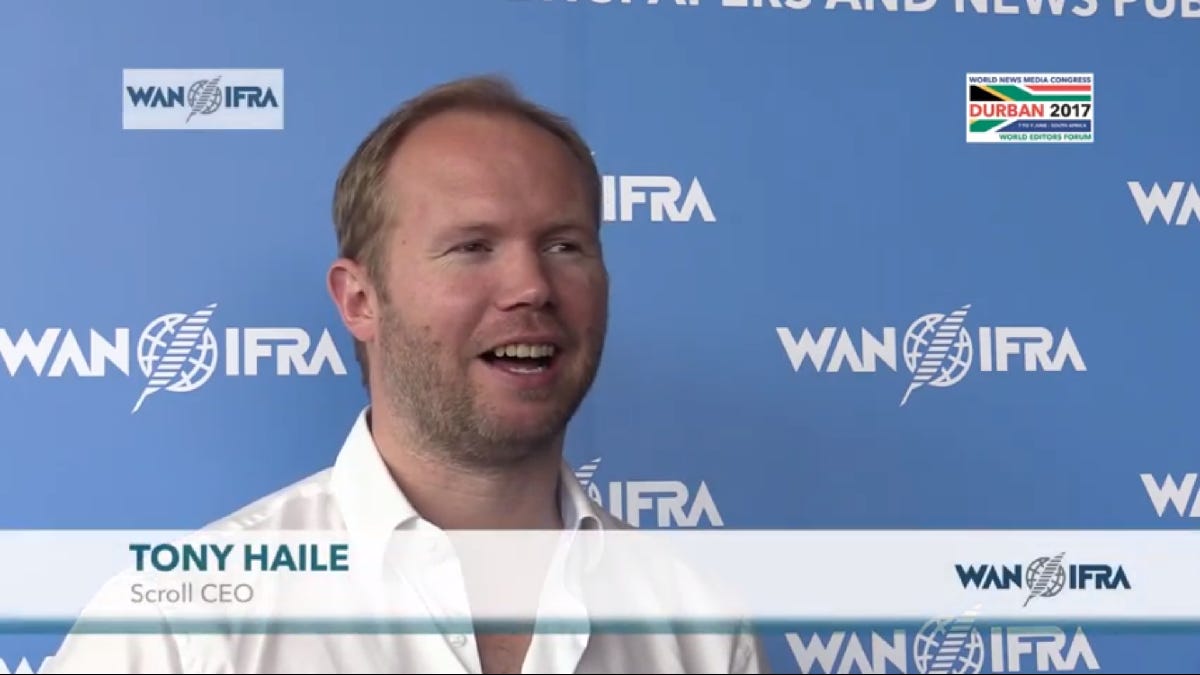 Welcome! I'm Simon Owens and this is my tech and media newsletter. You can subscribe by clicking on this handy little button:
Do news consumers want to pay for an ad-free experience?
It's pretty clear at this point that, at least in some cases, consumers will pay extra money to avoid the interruption of ads. Netflix built up much of its brand identity on the promise that it'll never feature advertising alongside its content. Hulu sold millions of subscriptions for an ad-free tier that's twice as expensive as its regular version. Roughly 130 million users pay Spotify for an ad-free music listening experience. 
But does this willingness extend to text-based news? It's clear that people hate internet ads, with up to 40% of U.S. laptop users utilizing some form of ad blocker. Abusive ad tech and intrusive pop-down ads have rendered some websites almost unusable without the help of some kind of ad blocker. But the jury's still out as to whether news readers place monetary value on an ad-free web experience.
Several individual publishers have experimented with removing ads as part of a larger subscription package. Talking Points Memo, for instance, offers an ad-free "Prime" membership for $100 a year. Some publishers like Slate promise "fewer ads" for paying subscribers. But for every publisher that offers an ad-free experience for subscribers, there are plenty more that don't. I pay $35+ a month for both The Wall Street Journal and Bloomberg -- pretty hefty sums -- and yet they don't hesitate to continue showing me ads. Bloomberg will even make me pause for five seconds before viewing an article just so I can be exposed to a message that attempts to guilt me into turning my ad blocker off. 
Scroll, a company that launched earlier this year, aims to test ad-free subscriptions at scale. It's formed partnerships with around 300 publishers, and if you visit one of their websites while logged into Scroll, then you're presented with articles that are stripped of all advertising. Subscribing to Scroll costs $4.99, and it pays publishers based on the amount of time Scroll users spend on each publisher's website. For example, if a scroll user spends 25% of their time at The Atlantic in a given month, then Scroll pays The Atlantic 25% of that user's subscription (minus whatever percentage Scroll takes out).
It's worth noting that Scroll merely removes ads; it doesn't grant you access to subscriber-only content. In the above scenario, you'll still hit The Atlantic's paywall once you consume all your free articles. Scroll's entire value proposition seems to rest on guilt-free ad blocking.
The product launched in January, and Digiday recently checked in on Scroll's adoption thus far. While its CEO wouldn't give any actual subscription numbers, several publishing partners confirmed that they hadn't yet seen any meaningful revenue from the service. Salon's CRO stated that Scroll only generates "a handful of dollars every month." One anonymous publisher said they'd only received a few hundred dollars total. While Scroll readers generated significantly more money per unique pageview, the company just hasn't achieved the scale necessary to impact publishers' bottom lines.
While it's way too early to declare Scroll a failure, I do think it faces an uphill battle for user acquisition because it isn't designed well for organic adoption. One of the reasons so many people have converted into paying subscribers for, say, The New York Times, is that they wanted to read NYT content but couldn't without turning over their credit card information. Because Scroll doesn't create or even host content, organic exposure will be limited. This likely means it'll have to spend a large sum of money just to market itself to potential customers.
Of course, its publishing partners could leverage their massive audiences to sell Scroll subscriptions, but there's really not much incentive for them to do so. For one, a publisher's advertising partners wouldn't be psyched that the publisher is pushing an ad-blocking product, especially since users with the disposable income to subscribe to such a product are the ones advertisers most want to reach.
What about when a publisher detects that a visiting user has installed an ad-blocker? Surely that would be the best time to prompt that user to sign up for Scroll? But publishers often use that opportunity to advertise their own subscription products, sometimes by offering an "ad lite" experience. It's unlikely that they'll turn over that kind of valuable real estate to a product they don't themselves own.
And don't forget: Scroll is already competing with free ad blockers, and those ad blockers already have a multi-year headstart on Scroll. And sure, some percentage of those users can be guilted into forking over cash for the same experience, but these people were already comfortable depriving publishers of crucial ad revenue, so are they really all that persuadable?
Scroll's mission is certainly laudable, but I just don't see where the user acquisition comes from outside of extremely expensive paid marketing. It's difficult to erect a paywall when you essentially don't have any content to lock behind your wall.
How to grow your newsletter by syndicating it to mainstream media outlets
Ernie Smith's newsletter Tedium often gets the kind of exposure that most indie newsletter writers can only dream of. A few days ago one of his articles was upvoted to the top of Hacker News. It's been featured in an episode of the hit NPR podcast Planet Money. Its individual issues have been syndicated in Vice, Atlas Obscura, and Popular Mechanics.
Some of this exposure came by design. Early on in Tedium's existence, Smith began securing syndication deals with editors at several mainstream publishers. For this case study, I interviewed him about how he established those relationships and why the syndication is mutually beneficial for both him and the publishers he works with.
To access this case study and others like it, you need to become a paying subscriber to this newsletter. By doing so, you'll not only receive these case studies in your inbox, but you'll also be supporting the production of the free newsletter and podcast. You get awesome content that'll help you in your career and you'll be supporting an independent creator. Subscribe at this link and get 10% off for the first year:
The New York Times paid just the right amount for Serial
It's exciting times for the podcast industry, what with each week bringing the announcement of another huge acquisition or licensing deal. Gimlet. The Ringer. Stitcher. Joe Rogan. All have been gobbled up by huge tech and media companies, each for tens of millions of dollars. 
The New York Times's acquisition of Serial Productions last week seems similarly monumental. After all, the first season of its flagship podcast kicked off a massive wave of podcast adoption. It was the first podcast to become the subject of watercooler discussions and group listening parties. It caused millions of people to Google "how to listen to podcasts" for the first time. 
But despite its popularity and position within the public consciousness, I was surprised to see reports a few months ago that the Times was considering paying $75 million for the company; that figure seemed high to me. Indeed, the actual price tag, at least reported by Variety, was $25 million. That seemed more reasonable.
"But Simon," you might say, "Serial Productions has produced some of the most popular podcasts of all time. Not just Serial, but its spinoff show S-Town generated 40 million downloads in its first month. Surely, Serial Productions is worth more than 10% of what Spotify paid for Gimlet Media!"
Sure, on a per-episode basis, Sarah Koenig and crew have produced some blockbuster podcasts. But in terms of total downloads, I don't think it comes close to the numbers achieved by several of the acquired podcast companies I listed above.
The first season of Serial launched in October 2014. It's been almost six years years since the debut of its first episode, and in that intervening time it's only produced three seasons of Serial and one of S-Town. It hasn't published a new episode of anything since 2018. At this rate, it's only putting out a season every year and a half. And most seasons are short -- roughly 10 episodes.
Now compare that to Joe Rogan, who records four to five episodes a week. Just the YouTube version of his show alone has racked up 2.4 billion views. He reportedly generates 200 million listens a month across all podcast apps. That's why Rogan can command $100 million per year while Serial can get snapped up for a mere $25 million.
That all being said, I do think Serial was a smart acquisition for The New York Times. Not only does it employ some of the best audio storytellers in the industry, but its RSS feed also has millions of subscribers. Given the Times's growing investments in the medium, having the expertise of Julie Snyder, Sarah Koenig, and Ira Glass in its corner is a huge win.
Want to interact with me directly?
I have a secret Facebook group that's only promoted to subscribers of this newsletter. I try to post exclusive commentary to it sometimes and have regular discussions with its members about the tech/media space. Go here to join. [link]
Other news
What I like about this new batch of bootstrapped media companies that have launched recently is that all their employees are co-owners. I think that produces some interesting incentives and allows the reader to feel more invested. [link]
A cool story about how a woman launched a blog to market her home interior consulting business and then the blog blew up to become much more lucrative than the consulting itself. [link]
A profile of the behind-the-scenes guy who's pushed some of the most viral music trends on TikTok. [link]
A good overview of how cord cutting has forced cable networks to begin contemplating a post-cable future where linear TV programming is merely an afterthought. [link]
Wow. The Athletic managed to get to 1 million paying subscribers during a pandemic when virtually no sports were being played. [link]
Do you like this newsletter?
Then you should subscribe here:
Simon Owens is a tech and media journalist living in Washington, DC. Follow him on Twitter, Facebook, or LinkedIn. Email him at simonowens@gmail.com. For a full bio, go here.
Image via YouTube