Discover more from Simon Owens's Media Newsletter
A newsletter about how publishers create, distribute, and monetize their digital content. This newsletter is free to subscribe to.
Over 14,000 subscribers
Why Patreon's business model is under threat
Every platform, from YouTube to Twitter, is launching features that allow creators to place content behind a paywall.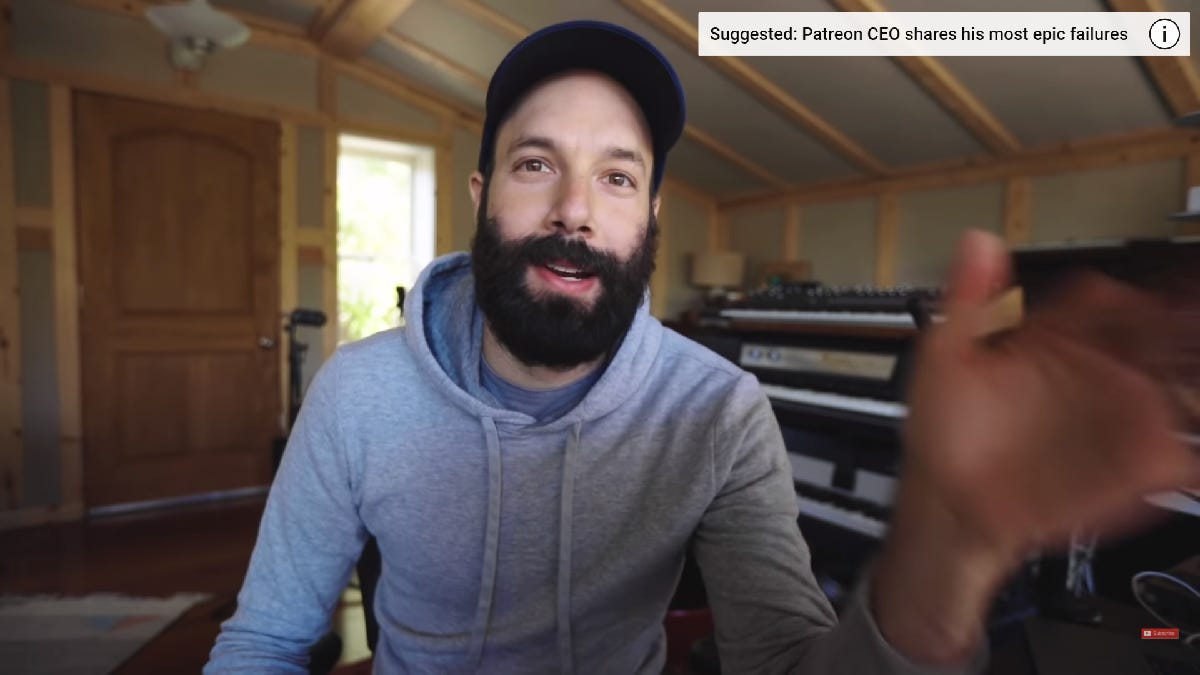 Welcome! I'm Simon Owens and this is my media newsletter. You can subscribe by clicking on this handy little button:
Out of all the tech platforms out there, Patreon has one of my favorite founding stories. It was 2013 and Jack Conte was fed up with YouTube's advertising program. He and his wife Nataly Dawn had formed the band Pomplamoose five years earlier, and even though their videos were generating north of a million views a month, their YouTube partnership payouts were paltry. In a 2017 Recode interview, he recalled how frustrating this was for him. "You'd see your YouTube dashboard, you'd see $150 [in shared ad revenue] … and I just. I lost it. I just. That's it. You can't. It's so demoralizing as an artist to feel so successful, and to have such a discrepancy between the impact you feel you're having on the world and then the paycheck that you get at the end of the month."
At the time, crowdfunding sites like Kickstarter existed, but they were geared toward one-off projects. You'd launch a campaign if you wanted to release a film or an album or a book, but what if you were an artist releasing your work on an ongoing basis? Conte had the idea for a platform that allowed fans to purchase a monthly subscription to a creator's work, either just to support them financially or to gain access to exclusive stuff. He pitched it to a coder friend named Sam Yam, and Yam liked the idea so much that he abandoned his own startup to build what would become the Patreon site.
While Yam coding the platform, Conte worked on one of his most ambitious projects yet: a music video that required the recreation of the Millennium Falcon interior and sophisticated animatronics. He decided to time the release of the song to coincide with the launch of Patreon, and at the end of the video he came on to encourage his fans to subscribe to his newly-debuted Patreon account. The video went viral and drove a bunch of subscriptions, and other YouTubers -- amazed by his success -- launched their own Patreon accounts.
I love this story for how Conte identified a problem he and his fellow creators were facing, built a tool to address that problem, and then incorporated the platform into his own content creation, thereby helping to evangelize it to other creators. 
Patreon caught on, and over the past few years it's served as a springboard for thousands of media entrepreneurs. In 2019, Wired reported that 125,000 creators -- podcasters, YouTubers, musicians, webcomic artists, etc…-- had generated a combined 5 million monthly subscribers. At the end of that year Patreon announced that it had paid out $1 billion to its users since its inception, with $500 million amassed that year alone.
But though Patreon's made significant progress toward its goal to "fund the creative class," I think its business model is now under threat, specifically because most of the large social media platforms have realized that there's real money to be made from taking a cut of subscriptions that are driven by their creators. Over the past few years, several of these platforms have rolled out subscription products, and because they control the levers of distribution for creators, they have huge built-in advantages that give them a leg up over Patreon.
Let's take a look at the new subscription products across video, podcasts, and text -- and then examine how they stack up against Patreon's offerings. 
Video
YouTube's always been the biggest player in the online video space, but for most of its existence it focused solely on growing its advertising business. Sure, there's YouTube Premium, but it's mostly designed to send revenue to the major music labels. Indie creators never really embraced Youtube Premium or encouraged their subscribers to sign up, except in cases where they were contracted for an exclusive show.
But starting in 2018, YouTube began rolling out tools that more directly compete with Patreon. It debuted a feature that allowed fans to pay $4.99 a month to a creator in exchange for exclusive content and other perks. It also formed a partnership with Teespring that would let YouTubers sell merch directly within their channel.
YouTube's 30% cut of all subscription revenue is much higher than Patreon's 5 - 12%, and every creator is locked into the same pricing, whereas Patreon allows for multiple tiers. But YouTube's paywall is built into its ecosystem, meaning it's much easier to expose a YouTuber's fans to paywalled content, and creators don't need to drive their potential subscribers to an off-platform link. A recent Bloomberg article indicated that adoption of YouTube's subscriptions is up significantly in recent months. "Between January and May, the number of contributors ... who no longer rely on advertising for the majority of their earnings grew 40%, according to Neal Mohan, YouTube's chief product officer."
The live streaming service Twitch has long been extremely aggressive with helping its creators generate revenue. Like YouTube, it offers a $4.99-a-month subscription for creators (though it recently introduced new pricing tiers), but it takes a whopping 50% of all revenue. It also allows fans to make one-off payments to streamers for live shoutouts and featured comments. These tools have helped Twitch's top streamers to generate upwards of $400,000 a month just from fan payments alone.
And then there's Facebook Watch. It rolled out its own subscription tools for creators in 2018, and its information page says it takes a 30% cut. But, as with all things Facebook Watch, I couldn't find any examples of indie creators that were using the feature. Do homegrown Facebook video stars even exist? I rarely encounter any in my reading.
Podcasts
A few years ago, Patreon debuted a game-changing tool for its podcast creators: whenever a fan subscribed to a Patreon account, they'd be given a personalized RSS feed that could be somewhat easily plugged into their podcast player. This way, podcasters could then publish patrons-only episodes that weren't available to non-paying subscribers. 
Since then, several startups have launched with this feature (I interviewed the founder of one such company for my podcast), but Patreon has such a large head start that I don't think it should feel threatened by them. Even better, none of the major podcast players have introduced their own subscription functionality, so Patreon faces little in the way of competition on the podcast front.
The far bigger threat lies with Spotify and Pandora, two of the fastest growing podcast listening apps. Both require submission and approval of any new podcasts that appear on their apps, which means that Patreon's personalized RSS feeds won't work within their ecosystems. Spotify is bringing millions of new podcast listeners into the fold who can't access Patreon's best feature.
Writing
Patreon never had the same level of adoption within the writing community as it did with podcasters and YouTubers, but there are some writers who make good income on the platform. The science fiction writer Kameron Hurley, for instance, generates $4,000 per month delivering short stories to her patrons. The music tech journalist Cherie Hu has over 760 paying subscribers. Patreon has some decent blogging and newsletter features. 
The Ev Williams-led company Medium doesn't compete directly with Patreon -- in that you can't pay to subscribe to individual writers -- but it does attract plenty of writers who might otherwise monetize through Patreon. A few years ago it launched a metered paywall, one that pays writers based on a Spotify-like engagement metric. With its $130 million VC war chest, Medium has a lot of money to throw at writers, and is supposedly beating its subscription projections. According to a monthly email it sends to writers enrolled in its partner program, "5.8% of active writers earned over $100 … $30,164.67 was the most earned by a writer, and $5,787.10 was the most earned for a single story." 
The more direct Patreon competitor is Substack. Its sleek design, free newsletter offering, and subscription functionality -- not to mention a bevy of other tools that it develops on a regular basis -- has made it the best place on the web for indie writers to easily monetize their writing. High profile writers ranging from Matt Taibbi to Andrew Sullivan have decamped from their mainstream publications to hang up a shingle on Substack, and it recently surpassed 100,000 paying subscribers across its newsletters. It should also be noted that it launched personalized RSS feeds for podcasters who want to offer subscriber only episodes.
How Patreon can compete
Given that the content subscription market is heating up and some of the biggest social platforms want in on the action, Patreon is facing the toughest competition in its short history. But that doesn't mean it can't continue to differentiate itself from the other products out there.
Patreon's strongest pitch is that it's independent from the major tech platforms. By now, every creator has been burned by the algorithmic feed or knows someone who has. YouTube wiped out the revenue streams of thousands of creators when it clumsily tried to crack down on brand-unfriendly content (a move commonly referred to as the Adpocalypse). Facebook Newsfeed causes monthly whiplash as pages suddenly find themselves on the wrong side of Mark Zuckerberg's whims. Patreon gives a creator the freedom to switch social platforms without taking an immediate financial hit.
It can also continue to develop new creator-focused services, a strategy it recently embarked on when it launched new revenue-share tiers that are tailored to the creator's specific needs. There are so many more aspects to supporting creators beyond allowing for subscriptions -- facilitation of live events, merchandise, sponsorships, even health insurance. The list goes on and on. 
I have confidence Patreon can navigate these waters. Why? Because its founder is a creator. It has the creator mindset baked into its DNA, and that's the kind of empathy the big tech platforms can't replicate, no matter how much money or power they wield.
Do you like this newsletter?
Then you should subscribe here:
Simon Owens is a tech and media journalist living in Washington, DC. Follow him on Twitter, Facebook, or LinkedIn. Email him at simonowens@gmail.com. For a full bio, go here.