Discover more from Simon Owens's Media Newsletter
A newsletter about how publishers create, distribute, and monetize their digital content. This newsletter is free to subscribe to.
Over 14,000 subscribers
Quibi could have succeeded. Here's how
It should have spent less on A-list celebrities and more on successful YouTubers.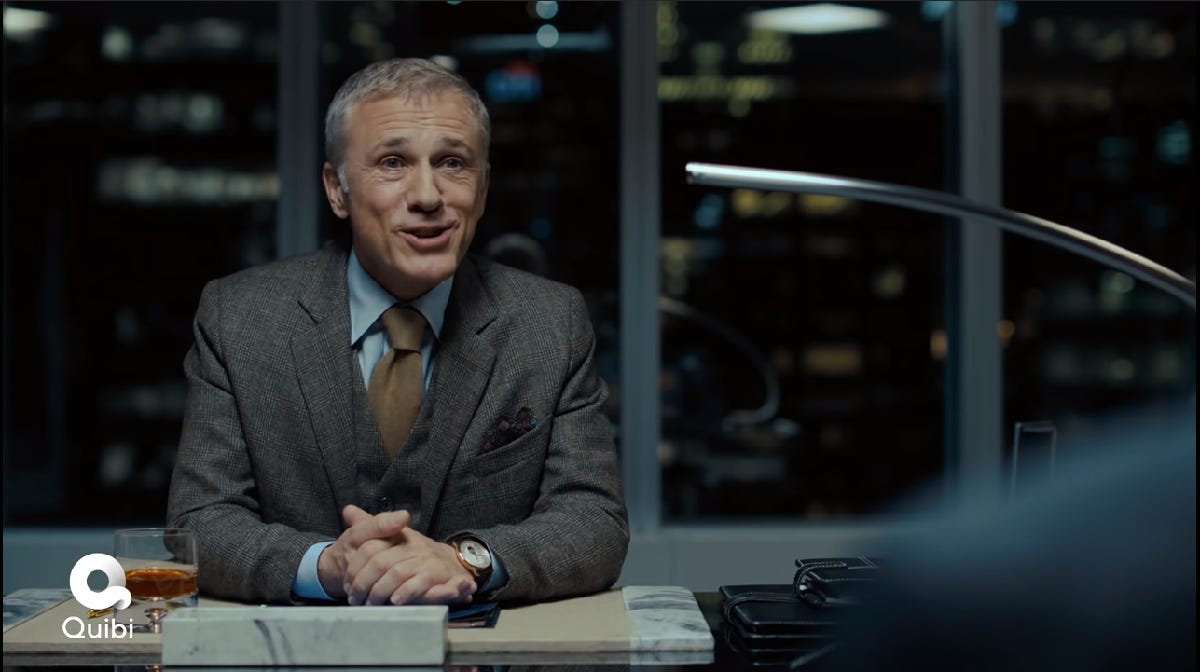 Welcome! I'm Simon Owens and this is my media newsletter. You can subscribe by clicking on this handy little button:
It's rare for a company to become a punchline before it even launches, but then again very few startups receive the kind of pre-launch hype that Quibi had. By the time its app officially debuted in April, it had raised $1.75 billion in investment, a figure almost unheard of for brand new ventures.
What's more, its founder Jeffrey Katzenberg had already given dozens of interviews to top-tier media outlets in which he claimed his app that delivered Netflix-quality shows in 10-minute bites would shift the paradigm for how we consume video on our phones. "Five years from now, we want to come back on this stage and if we were successful, there will have been the era of movies, the era of television and the era of Quibi," he said in 2019. "What Google is to search, Quibi will be to short-form video."
To be fair to Katzenberg, he had the kind of resume to earn him the benefit of the doubt. As an executive at Disney during the 80s and 90s, he oversaw some of the most lucrative film franchises in the company's history, and he later went on to found Dreamworks. But despite these credentials, Hollywood veterans expressed doubt that a 69-year-old media mogul and his 64-year-old CEO had their fingers on the pulse of the mobile-viewing generation. Quibi's slate of announced shows and films didn't inspire much confidence, and months before the app even launched, the business press treated it as an over-hyped startup funded by "dumb money."
We're now a little over six months post-launch, and a lot of those critics probably feel pretty vindicated. After debuting near the top of the iOS and Android app stores, Quibi quickly fell in the rankings. Within a month it was no longer among the top 100 most-downloaded apps, and a month after that it slipped out of the top 1,000. Most of its shows garnered mediocre reviews, and only 8% of its users reportedly converted into paying subscribers after their 90-day free trial expired.
By late summer, even Quibi's executives were acknowledging it had underperformed expectations. It lowered its first-year projections from 7.4 million users to 2 million, and it sought $200 million in additional funding just so it could stay afloat. Its blue chip advertisers are renegotiating their rates in light of disappointing viewership numbers, and in September The Wall Street Journal reported that its executives were exploring a sale of the company. And then just this week The Information broke the news that Katzenberg had tried to offload Quibi's content onto Facebook and NBCUniversal, and, failing that, was considering shutting down the company completely. While it's too soon to call Quibi a complete and utter failure, the paradigm for video consumption remains unshifted. (UPDATE: Apparently it wasn't too soon to call Quibi a complete failure)   
Some would argue that Quibi's underlying premise -- that a market exists for super premium short form video -- was doomed from the start, but I don't agree with that assessment. Billions of people consume short videos across YouTube, TikTok, and other platforms every month, and Quibi would only have to convert a relatively tiny percentage of them, 30 million or so, to be considered successful.
Instead, I think Quibi's failures can be mainly attributed to flawed executions in its technology building, marketing, and content acquisition. Basically, in attempting to create a juggernaut video app, Katzenberg and his cohorts failed to incorporate many of the strategies that other streaming giants pioneered. Here are four ways I would have approached Quibi's development and launch differently:
Devoted half my content budget to YouTubers
One of Quibi's biggest strategic blunders, in my mind, was that it tried to build a streaming destination geared toward Millennials and Gen Z without leveraging the creative brilliance and marketing reach of the very creators that excel at attracting those viewers: YouTubers. 
Instead Katzenberg devoted the vast majority of his considerable budget to traditional Hollywood projects that cast older A-list stars like John Travolta and Kiefer Sutherland -- celebrities more likely to appeal to Boomers and Gen-X. "The reason why we went with stars, and celebrities, and known talent is because it's brand new, and we needed to clearly define for the consumer, for people that would subscribe to this, why is it different?" he explained. He also bragged that Quibi content would cost him up to $100,000 per minute to acquire.
Yes, Quibi did greenlight some programming from online influencers. In late 2019 The New York Times reported that YouTube stars like Shan Boodram and Liza Koshy had sold shows to the platform, and its executives regularly took pitch meetings with YouTubers.
But they also placed an exceedingly high bar for influencer pitches, rejecting many of their ideas and pushing them into formats that seemed more designed for traditional TV than online viewing. According to Business Insider, Katzenberg was known to say, "If it can be on YouTube, it can't be on Quibi." Anonymous talent agents told the publication that Katzenberg and crew were often dismissive of really creative show concepts. "It was super frustrating because we thought that we had a few good ideas and they were automatically shut down because they were quote unquote 'YouTuber ideas,' which I thought was very strange," one said.  
It's clear from reading interviews with Katzenberg that he fundamentally looked down at the craft perfected by YouTubers and online influencers. "If there are good actors and good talent on YouTube who can transition to that, then we're happy to have them," he said in early 2020. "But it's highly differentiated…we're not trying to do a high-end version of what they're doing. We're actually trying to bring the ecosystem of broadcast, cable, streaming, television and television storytelling and bringing that to this world."
If I were in Katzenberg's position, I would have allocated a much larger portion of my budget toward YouTubers, TikTok stars, and other influencers -- as much as 50%. I also would have given them much more creative leeway in pitching show concepts. There would be several benefits to the strategy.
For one, it would have been much more economically efficient. I sincerely doubt that any YouTubers would have pitched ideas that require $100,000 per minute to produce, which means Quibi could have spread its budget across hundreds of niches and influencers while also expanding its content library considerably.
This approach would also have had built-in marketing benefits. The top YouTubers collectively have tens of millions of passionate fans who spend considerable amounts of money on everything from merchandise to live events. They could have provided a massive and organic push to get their followers to sign up for free trials to Quibi. Even if they required additional marketing budget to do so, the spend would generate much higher ROI than traditional advertising channels.
By having a mix of YouTuber content and more traditional Hollywood fare, Quibi could have better bridged the divide between high-end subscription services like HBO and the user-generated videos found on platforms like YouTube and Facebook. Instead, it just took traditional Hollywood content and chopped it up into 10-minute bites. 
Published to all devices
Regardless of the quality of Quibi content, the company faced a steep uphill battle in driving user adoption, essentially requiring millions of people to incorporate it into their media consumption habits. So why on earth did it place draconian restrictions on how its shows and movies could be viewed?
On launch day, Quibi could only be watched through mobile devices. There were no connected-TV apps on Roku, Amazon Fire, or Apple TV. You couldn't even view them on your laptop browser. This was intentional on Katzenberg's part. "Mobile video is the white space," he said in 2019. His vision of the average Quibi user was someone who would fire up the app while waiting in line at the bank or commuting to work on a city bus, and so he designed it so as not to allow literally any other use case.
This is a great example of how Quibi's leaders failed to simply observe the competitive landscape. When it comes to mobile video views, no other platform is more successful than YouTube, yet a sizable portion of YouTube watching occurs on laptop and desktop computers. And its connected-TV viewing is growing quickly, counting at least 100 million monthly users.
Quibi executives realized their mistake almost immediately. Within days, they announced development for connected TV apps, but it'll be months still before they become available. The company now allows users to "cast" their mobile screens to their TVs if they have Chromecast, but this option isn't accessible for the vast majority of streaming video users.
Even if Quibi gets up and running on platforms like Roku by the end of the year, it'll have lost crucial runway in onboarding and converting users, especially the millions of those who already let their 90-day free trials expire.
Released the first season of every show on free platforms like YouTube
This is admittedly the most radical of all my suggestions, but I think it would have driven viral, organic conversion to the Quibi app.
Think of just about every successful streaming service in existence. They all started with significant back catalogues of licensed IP -- shows and movies with already existing fan bases. Netflix was able to drive so much viewership to House of Cards because it already had thousands of hours of linear TV content from shows like Friends and Breaking Bad. The Mandalorian wouldn't have pulled down the significant audience numbers it had if Disney+ didn't also include hundreds of classic movies and TV shows stretching back decades.
Quibi launched with almost entirely new IP, and though it offers a free trial for new users, they still need to download and visit a new app, a process that generates quite a bit of friction. Any app marketer will tell you that getting users to download a new app is only half the battle; it's just as difficult to get them to open it on a regular basis.
Imagine if Quibi had decided to inject the first season of all its serialized shows directly into the channels that billions of people are already using: YouTube, Facebook Watch, IGTV. It could have leveraged their reach to build massive fan bases that could then be driven to downloading the app.
Instead, Quibi placed draconian restrictions on its IP. The most mind-boggling decision involved blocking people from utilizing their phone's screen capture functionality when watching shows. Users were shocked to learn they couldn't easily create memes and other commentary that they could then share to their social media accounts. Again, all Quibi executives needed to do was observe the competitive landscape to know that social media discussion is the life blood for driving viewership to new shows.
To be fair, Quibi has gotten better about distributing content on free channels. Its YouTube account publishes lots of free clips and, in some cases, entire episodes of its shows. But most of the full-episode content comes from its lower-production reality and news shows. Getting users hooked on a high-production serialized show would drive much stronger adoption.
Bought the content outright instead of licensing it
Most people view Netflix's move into original show production as a strategy to differentiate its content slate from competing services, but perhaps its biggest positive impact was in how it insulated Netflix from the ever-rising content licensing fees that threatened its longterm health. It can continue to expose millions of users to episodes of, say, Stranger Things without paying much in additional costs, whereas shows like The Office and Friends were always subject to competitive bidding wars and could be yanked off Netflix entirely.
According to reporting in Hollywood trade press, Quibi structured its content deals so the rights revert back to the creators of the shows after a two-year period. This makes it hard for the company to increase its residual value over time with evergreen content. This means that a sizable portion of its annual budget will be directed toward license renewals instead of new projects. As a result, its content library won't expand nearly as quickly as it could have otherwise.
***
Quibi executives certainly acknowledge that the company isn't meeting growth expectations, but it blames this fact on a single culprit. "I attribute everything that has gone wrong to coronavirus," he told The New York Times. 
While you can't discount Covid-19 as a significant factor that's driving the economic decisions for millions of American consumers, I think there's no denying that Quibi made some huge missteps that hobbled its growth in those early months. And though it seems clear that the company is correcting for at least some of those mistakes, it may have lost out on the crucial momentum that could have allowed it to stand out in an incredibly competitive field. With such large rivals each spending billions of dollars every year on premium video, you only get so many bites at the apple before you join the mountain of media startups that failed to break through.
Do you like this newsletter?
Then you should subscribe here:
Simon Owens is a tech and media journalist living in Washington, DC. Follow him on Twitter, Facebook, or LinkedIn. Email him at simonowens@gmail.com. For a full bio, go here.