Discover more from Simon Owens's Media Newsletter
A newsletter about how publishers create, distribute, and monetize their digital content. This newsletter is free to subscribe to.
Over 14,000 subscribers
How The Daily Show reinvented itself for the social media age
Trevor Noah doesn't care if you watch the show on your TV or your phone.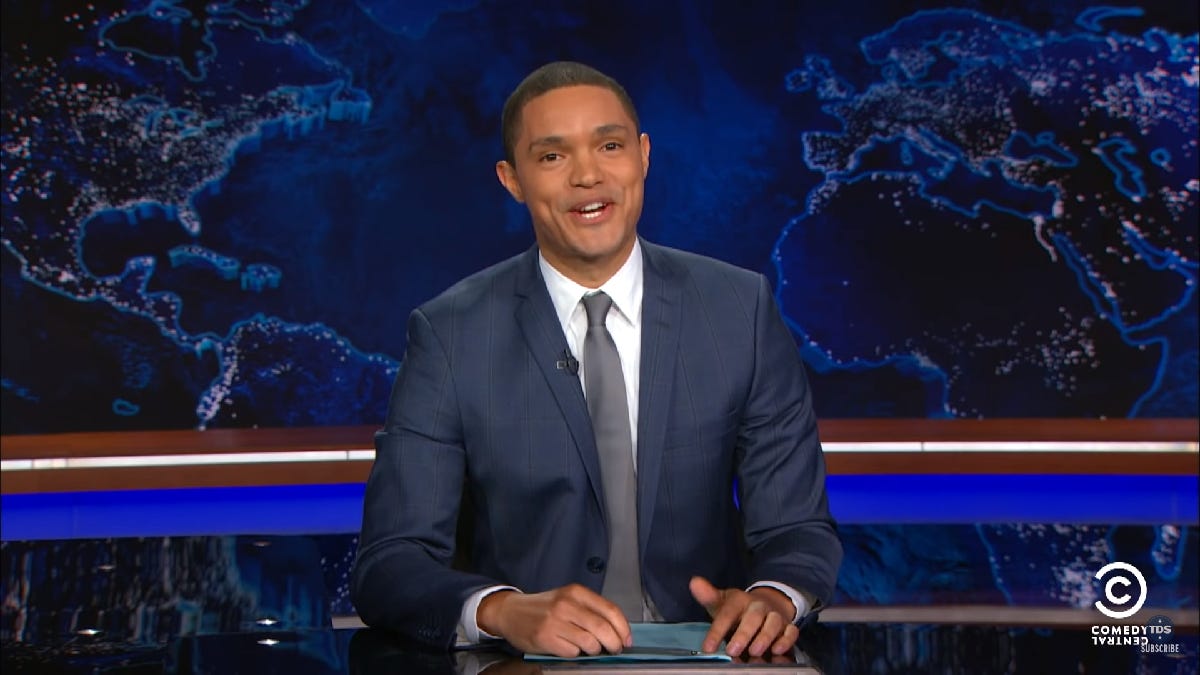 Welcome! I'm Simon Owens and this is my tech and media newsletter. You can subscribe by clicking on this handy little button:
Back in September 2015, Trevor Noah delivered one of the most anticipated opening monologues in Daily Show history. Just a few months before, Comedy Central had surprised the world with the announcement that Noah, a relatively unknown South African comedian, would be replacing the iconic Jon Stewart. And here was his debut episode that kicked off one of the most talked about franchise reboots in comedy history.
The entire opening segment is 11 minutes long and hosted on YouTube. Several minutes into the video, Noah addresses his audience directly: "And to you, the Daily Show viewer, both new and old, at home or on your phone, thank you for joining us as we continue the war on bullshit."
It may seem inconsequential, but some interpreted the "at home or on your phone" line as an acknowledgement that the Daily Show viewer of 2015 wasn't necessarily the same kind of viewer who watched in the mid 2000s when Jon Stewart changed the satirical news landscape. This new generation of viewers wouldn't necessarily tune in each night at 11. Many wouldn't even have cable. Instead, they'd catch short clips while waiting for a bus or procrastinating at work. Most of these clips would be consumed on social media platforms instead of Comedy Central's owned and operated site.
Indeed, over the next four years, Trevor Noah's Daily Show reinvented itself for the social media age, extending its coverage beyond its 30-minute taping and developing entire formats designed to specifically live on the internet. And by doing so, Noah quickly became one of the most culturally relevant late night hosts working today.
Even before Noah took over, The Daily Show could ascribe much of its success to the internet. Back in the early 2000s, before Comedy Central started officially uploading entire episodes to its website, liberal bloggers like Crooks & Liars would cut clips from the show and upload them to their clunky media players (this was during the pre-YouTube era). Jon Stewart's famous appearance on CNN's Crossfire, in which he enviserated a young Tucker Carlson, was one of the first examples in which the audience for an online video was larger than its TV viewership.
By the 2010s, Comedy Central was adept at cutting up episodes of The Daily Show and distributing them across its own website and YouTube, but it strictly operated on a TV-first basis. An episode would air, and only then did a team prep it for online distribution, usually the next day so it wouldn't cannibalize the show's TV viewership. 
Noah, on the other hand, immediately set about expanding the show's digital team by tapping The Onion's Baratunde Thurston and Reuters's Anthony De Rosa, two rising figures in the social media strategy space. As Thurston later recalled:
When Trevor Noah recruited me for this position, I joked with him that "I don't want to be your digital monkey." I didn't want to be relegated to a corner somewhere sending tweets. He got it and supported my view that I wasn't building an ancillary digital team but an integrated "Expansion Team." That's literally what I decided we should be called, and it stuck. We would build on, with, and beyond what the show was already doing and expand The Daily Show.
Noah's team began experimenting with native internet content before even the first episode aired. Given that he was a relatively unknown figure, Comedy Central predicted that people would begin turning to Google to learn more about him. So they shot several short videos in which Noah himself answered the internet's questions about him. They then took those videos and uploaded them to YouTube -- only they kept them unlisted so that someone simply browsing YouTube wouldn't find them.
Why? Well, next they bought targeted search ads that only appeared when someone Googled a phrase like "Trevor Noah girlfriend" or "Is Trevor Noah gay?" That person would then click on the text ad and be delivered to the unlisted YouTube video with Noah's response. Internet users quickly discovered the videos and began sharing them on social media. This led to an easter egg hunt where they Googled hundreds of phrases in search of other hidden videos. According to Comedy Central, the campaign generated 38 million impressions and 2.8 million views.
If you followed The Daily Show on social media, it didn't take long after Noah's debut for you to notice a much more active presence on platforms like Twitter and Instagram, especially on days when there was important breaking news. A 2019 Fast Company article detailed a social media war room the show set up for the Democratic debates where its team of comedians would brainstorm jokes, in real time, to be posted to Twitter. When Bernie Sanders threw his hands up in dramatic fashion, the Daily Show team cut the video and spliced it with club dance music. The 19-second clip attracted nearly 2,000 retweets. Scroll through the show's Twitter feed today, and you'll see it cracking jokes at all hours. When a joke does particularly well on Twitter, you'll often see it appear on the Daily Show's Instagram account a few hours later.
The Daily Show's digital team doesn't work separately from its TV staff; rather, they're tightly integrated. A joke that does well on social media sometimes gets adapted into a Noah segment later that night. The digital staff also built joke websites that Noah plugged during the show. After the Ted Cruz presidential campaign uploaded hours of campaign footage to YouTube, Noah encouraged his viewers to go online and remix the footage into funny videos. He later featured the best videos during the TV airing. 
So what positive impact has all this innovation shown for The Daily Show? Well, for one, it punches far above its weight in terms of social media reach compared to the network late night shows, all of which have much larger nightly viewerships. In terms of total reach, only Jimmy Fallon's The Tonight Show beats it.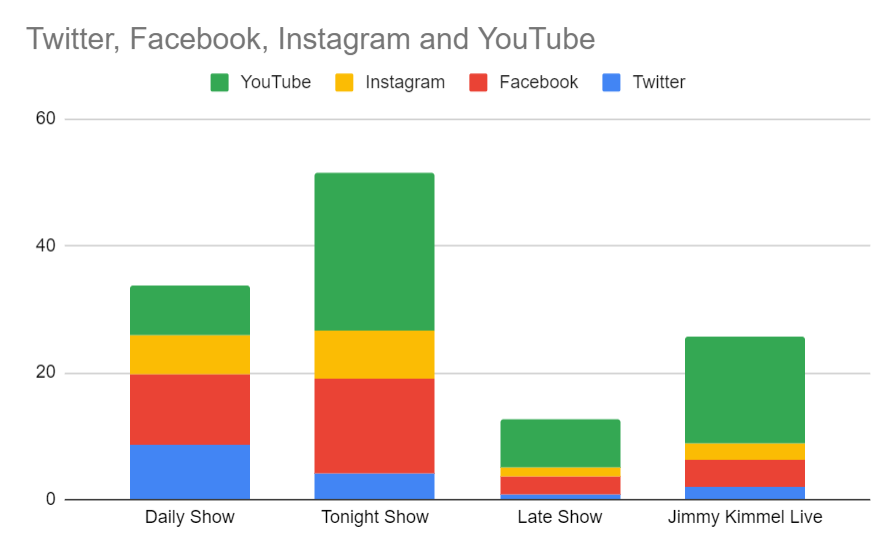 What about actual viewers tuning into the cable broadcast? The Daily Show claims that digital media plays a major role. "The digital side of the show and social media is a big driver of our viewership," Jennifer Flanz, executive producer and showrunner of The Daily Show, told Fast Company. "It engages a totally younger audience. They see what we're doing online those two hours during the debate and then they get really excited to tune in for the show and see how we're going to cover it." 
A 2017 Bloomberg article noted that The Daily Show's audience "has grown 14 percent in the past year and 6 percent among viewers ages 18 to 49, a demographic advertisers favor. None of Noah's late-night competitors -- even the surging Colbert at CBS -- have managed both feats." However, a 2019 WSJ article reported that The Daily Show's audience that year had declined from the previous year, although it's worth noting that nearly all linear TV has seen shrinking viewership numbers in the age of cord cutting. Several network late night shows experienced sharper year-over-year declines. 
The larger question is whether Comedy Central, in the long term, will be able to effectively monetize the Daily Show's online audience more directly. I assume it participates in YouTube and Facebook Watch's ad partnership programs, but they likely deliver much lower advertising rates than lucrative cable commercials. And then there are the cable carriage fees that will only continue to suffer as millions of customers cut the cord. In terms of cultural relevance, Noah has succeeded in carrying on Jon Stewart's legacy and even building on it. But the Daily Show's longterm health will depend just as much on its financial stability as its audience reach. Let's hope that the social media groundwork it's laid over the last few years will help ensure its continued success.
Do you like this newsletter?
Then you should subscribe here:
Simon Owens is a tech and media journalist living in Washington, DC. Follow him on Twitter, Facebook, or LinkedIn. Email him at simonowens@gmail.com. For a full bio, go here.