Discover more from Simon Owens's Media Newsletter
A newsletter about how publishers create, distribute, and monetize their digital content. This newsletter is free to subscribe to.
Over 14,000 subscribers
Terrell Johnson built a massive community around his running website
He started out by indexing half marathon races and then launched a Substack.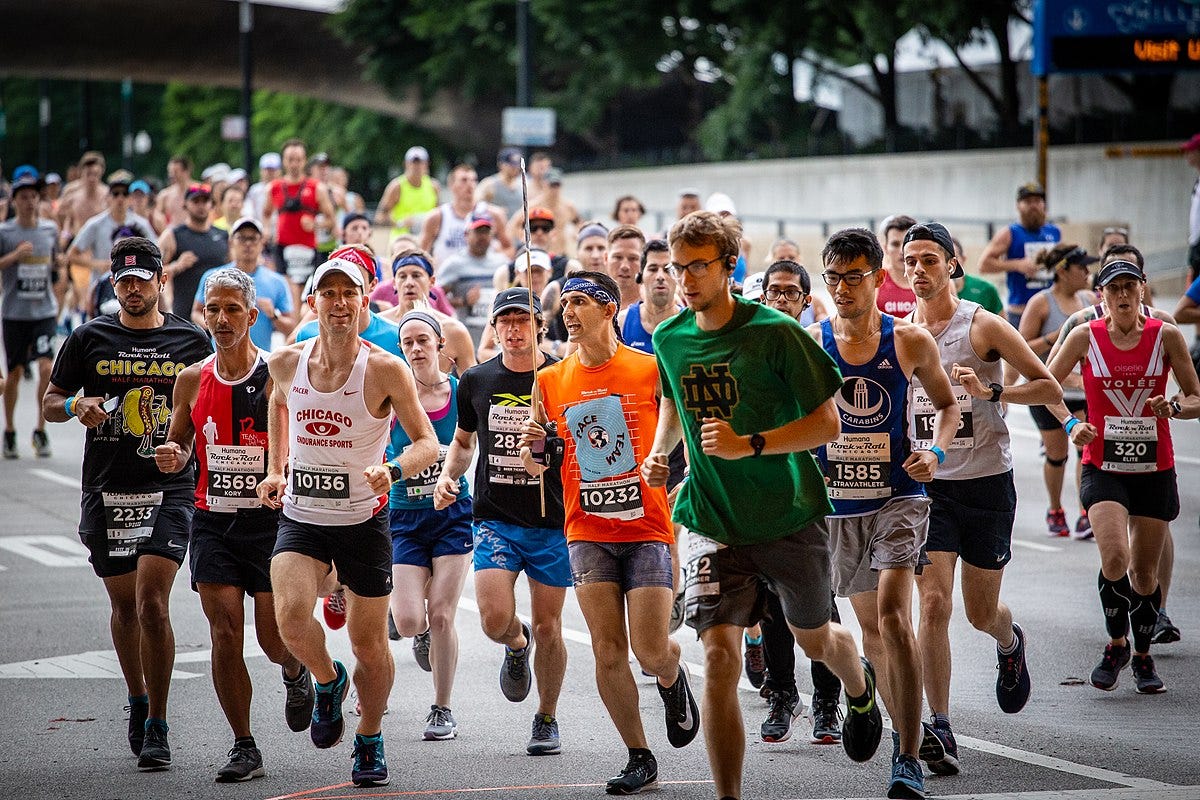 When Terrell Johnson launched on Substack, he had no intention of rolling out a paid newsletter. He was just trying to escape Mailchimp's expensive fees and liked that Substack would send his newsletter for free. About a decade earlier, Terrell had created HalfMarathons.net, a running focused website that grew so popular that at one point it was generating six figures in revenue just from Google Adsense.
His free newsletter served mostly as a form of marketing for the website, but he eventually began to wonder if his most engaged readers would be willing to pay for it. So he flipped on Substack's payment features, and while it wasn't an overnight success, he's gradually grown it into an impressive community of paid subscribers.
I interviewed Terrell about where he got the idea for HalfMarathons.net, how he built up an audience, and why he eventually grew to distrust Google as his primary traffic driver.
To listen to the interview, subscribe to The Business of Content on your favorite podcast player. If you scroll down you'll also find some transcribed highlights from the interview.
iTunes/ Stitcher/ Google Play/ Overcast/ Spotify/ Google/ YouTube
This transcript has been edited for clarity.
Why Terrell launched a website focused on half marathons
In the mid-2000s, Terrell read an article in the Washington Post about how some people were generating real revenue after launching websites and monetizing them with Google Adsense. "I just thought to myself, I could do that. I knew HTML. I knew how to code a little bit." He was also an avid runner. "I know something about running from running these marathons, and I just felt like that's just something I could write about. I looked around to see what was out there. There was a website called MarathonGuide.com, but there was nothing devoted specifically to half marathons at the time."
He actually launched the site at the perfect time, since the half marathon soon became one of the most popular races in the world (I've run two of them!). At first, HalfMarathons.net served mainly as a reference site. "I put together just a directory of all the half marathons in America and then eventually more around the world." From his own personal experience, he knew that people would want to know about the quality and experience of a particular race before signing up. "So I did tons of research about these races and just would write these little essays about the race. Those descriptions, those little essays I wrote helped it do really well in search results. Later I had companies approach me who wanted to make it easy for people to be able to sign up for these races from my website. And then I started creating maps of the courses and it just became a really, really popular clearing house for half marathons across the country." The site was soon getting a half million visitors a month. 
***
Like this article so far? Then you'll really want to sign up for my newsletter. It's delivered once a week and packed with my tech and media analysis, stuff you won't find anywhere else on the web. Subscribe over here:
Ok, back to our scheduled programming…
***
Why he invested in building a newsletter
Terrell was generating great traffic and pretty good money from the website. But he became aware of how reliant he was on Google when the search giant temporarily pushed HalfMarathons.net out of the front page of results. "Traffic just plummeted.  24 hours later, it was fine. But that was an aha moment where I realized they really control your destiny. If they send you down in the rankings, you're done."
This was around the time that newsletter-focused media companies like theSkimm were gaining steam, and Terrell admired the fact that these outlets were much less beholden to large platforms like Google and Facebook. "There's nothing better than having a direct relationship with your audience. So I developed an email newsletter purely for the purposes of promoting the website." He started by simply listing races and stats within the newsletter. "Then I started writing these very brief little intros and they sort of became bigger over time. And the response I started getting back from people was really just moving and gratifying, and I was kind of blown away by the response from readers. I just kinda kept doing it. What was originally just purely a promotional vehicle for the website  became something else on its own."
Why he eventually launched a paid newsletter
Terrell originally sent his newsletter through Mailchimp, which became fairly expensive once he generated tens of thousands of subscribers. Then one day a newsletter he subscribed to switched over to a platform he'd never heard of before: Substack. He had no plans to launch a paid newsletter, but he liked the fact that Substack allowed you to distribute your newsletter for free. Switching automatically saved him $3,000 a year. 
It didn't take too long for Terrell to begin thinking about what running a paid version of The Half Marathoner would actually look like, and last year he went for it. "Honestly I didn't have probably the greatest plan at the time, and it's really changed since then." At first, the paid newsletter simply provided extra listings of races. But then Covid hit, and in-person races went away overnight. Terrell began to conceive of a virtual running group, one that required a paid subscription to join. "We're all training together now for a virtual race and I sort of coach them. One of the things that was so much fun to me about running years ago was being part of a running group, and for years we would meet every Saturday morning in Atlanta, run, and then we'd get together for coffee afterwards.  And so my newsletter is kind of a way of reassembling a virtual running group for myself, except we don't meet personally. We're all across the country and all across the world. We just kind of check in with each other after a run either every day or on the weekends." Terrell acts as a kind of coach, sending regular workouts and diet tips.
He prices the paid newsletter at $10 a month and $50 a year (the annual discount is pretty large, and that's on purpose). "I have a little over 800 paid subscribers and a little over 50,000 on the free list." So that's a run rate north of $40,000, which, paired with the money he generates from ads on his website, adds up to pretty good revenue for a company he's operating in his free time. 
Did you like this article?
Do you want me to create awesome content like this for you? Go here to learn how you can hire me: [link]
Simon Owens is a tech and media journalist living in Washington, DC. Follow him on Twitter, Facebook, or LinkedIn. Email him at simonowens@gmail.com. For a full bio, go here.
Image via Wikimedia Commons