My 2019 in review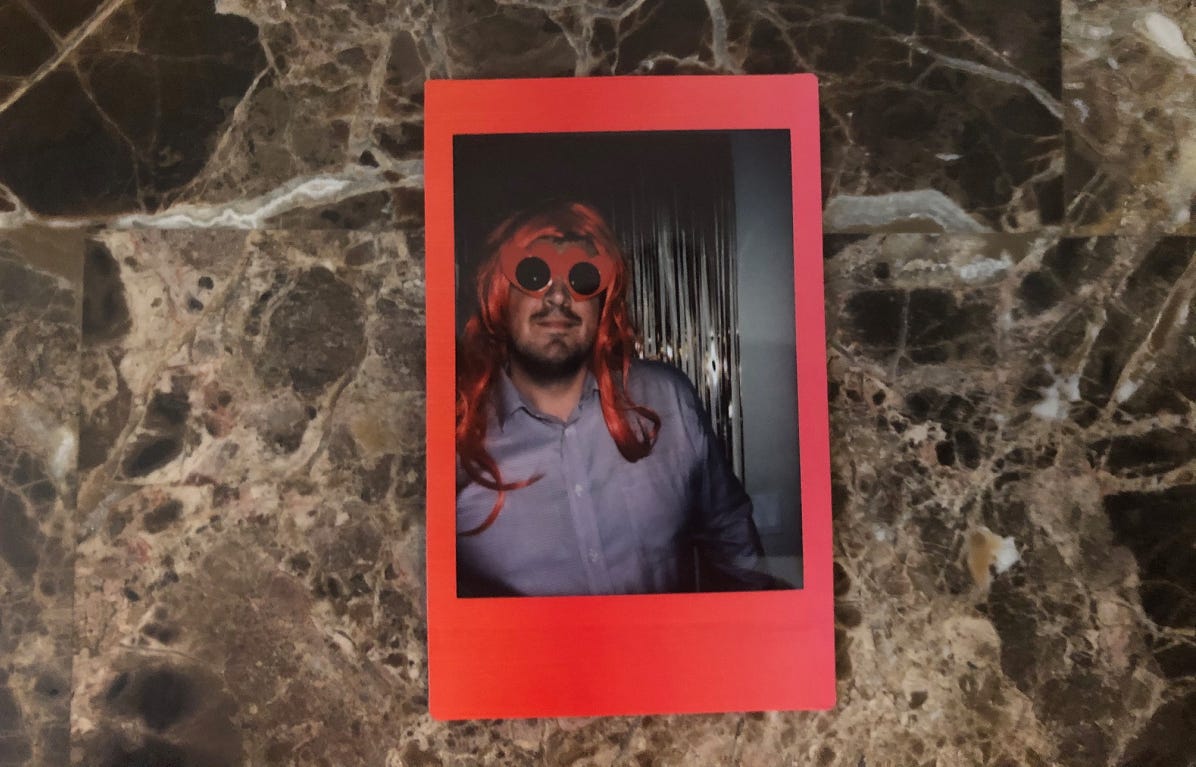 Welcome! I'm Simon Owens and this is my tech and media newsletter. You can subscribe over here or just click on this handy little button:
Hey newsletter subscribers! I don't spend a lot of time writing about myself in this newsletter, so I'm hoping you'll indulge me for this one installment. Like nearly every other content creator on the internet, I can't resist the desire to look back at the year behind me and take stock of both my successes and failures. 
Let's do this!
Personal life
This year I celebrated my third year of marriage with my wife Meera. I turned 35. We hosted several great parties, and I even invented my own tequila-based cocktail. 
I ran a 5k, a 10k, a half marathon, and two sprint triathlons. Overall, I ran over 500 miles in addition to a lot of swimming, biking, hiking, ultimate frisbee playing, and weight lifting. 
Perhaps my biggest accomplishment was finally getting my Crohn's disease under some semblance of control. I've had the autoimmune disease since 2008, and for the last few years in particular I've struggled to get my digestive system under control without the assistance of life-altering steroids. After two years spent cycling through various biologic drugs, I finally landed on a combination that seems to work, and I've been steroid free since February. I can't even begin to explain what this has done for my quality of life, my productivity, and my hope for the future. 
People who don't suffer from chronic diseases have no concept of the toll they take on your daily life. If I were to add up all the time over the last decade I spent suffering from flair ups, going to-and-from doctors appointments, getting blood work done, and haggling with insurers, then it'd probably tally up to about an entire year of my life. Think about that for a second: I've only had nine years worth of productivity compared to a healthy person's 10. Imagine if you were forced to take off an entire year from your job, exercise, and social life and how that would impact your career success and happiness. It's been a frustrating decade, to say the least. But now I have hope that the next one will be better.
While the remission was a positive development, I've faced some other health frustrations. Despite near constant diet and exercise, I've had difficulty losing weight, which has been a frustration for me. And while I'm proud of the amount of mileage I put into my running, I didn't hit many personal bests this year.
My consulting work
Many people who follow me on the internet aren't even fully aware of how I make my living. You can read about my full range of services over here, but suffice it to say that companies hire me to work on different aspects of their content marketing -- ghostwriting articles for executives, writing white papers, running their social media operations, or even devising an entire soup-to-nuts content strategy.
In 2019, I stayed moderately busy. For some months, I had more work than I could handle. For others, just a trickle of projects. I don't always consider the latter to be a bad thing, because I use the downtime to work on things like this newsletter and my podcast, the kind of work I truly enjoy more than anything else.
This year brought some interesting projects. I got to help generate press for the launch of the International Swimming League. I collaborated with POLITICO to create content for its advertising partners. I wrote dozens of white papers, articles, and other content pieces for a number of clients that included a venture capital firm, solar power company, science fact-checking platform, and several startups. And I spent the better part of the last month composing a 50-page strategy document for an exciting media company that launches this year!
One frustration I had this year was that there were a few larger projects that seemed imminent but ultimately fell through. When you're a freelancer, you're constantly chasing the retainer clients, the ones that can provide month-to-month stability, and yet not many came through this year. Scrounging up ad hoc projects can result in a decent living, but without the steady retainers, I never felt completely stable.  
My articles
For this section, I'll be discussing articles that were published outside of this newsletter.
My most popular article for the year was likely my January piece for New York Magazine on whether it's time for the government to apply more regulation to social media influencers. I never saw the analytics for the piece, but it spent several days listed as one of the most popular articles on the site and I still get emails about it to this day.
I wrote about 20 pieces for What's New In Publishing, one of my favorite outlets to write for because they pay promptly and let me write about whatever I happen to find interesting. My most popular articles for the outlet include an article about how newsletters innovations drive revenue, advice on whether you should invest your resources in Facebook Watch or YouTube, and an explanation of how BuzzFeed is solving native advertising's scale problem.
I used to post a lot of my content to Medium, but I've grown increasingly frustrated with how the platform has tinkered with its distribution, cutting me off from the users who followed me over the years. These days, it reserves almost all of its distribution for articles published behind its metered paywall, and midway through this year I decided to start publishing my pieces exclusively to this newsletter, though I continue to publish transcripts of my podcast to Medium.
Of the few articles I did publish to Medium this year, the most popular was about the race to build a podcast recommendation engine and why it matters. I also predicted (correctly) that Apple would start producing its own original podcasts. Other reader favorites include a rumination on why the "1,000 true fan" theory is overrated and an explainer on how YouTube is rigged against independent creators.   
My podcast
This month marks the two-year anniversary of launching The Business of Content, and one of my greatest regrets is that I didn't launch it sooner. While writing will always remain my true passion, I've had so much fun sitting down for long-form interviews with media entrepreneurs and executives. The level of intimacy you get with your audience is incredible, and I love it when listeners email me to say they're fans of the show.
My total number of downloads this year nearly quadrupled, and I'm particularly proud of my episodes about Techmeme's daily podcast, Vox's podcast strategy, and an indie newsletter that's converted over 10,000 paying subscribers.
I'm actually on the lookout for new interview subjects in 2020, especially those who run profitable newsletters and have seen success with online video (professional YouTubers fascinate me!). I also like interviewing founders of niche media companies. If you fit this description, definitely shoot me an email.
This newsletter
This was a year of turbocharged growth for this newsletter. It saw 34% growth in subscribers, which is much better than the 7% growth in 2018.
What caused the uptick? For one, I finally abandoned Tinyletter and switched to Substack for distribution. It really is a shame how much Mailchimp let Tinyletter die on the vine; it once had a thriving little community of writers, but after years of neglect, it was clear that Mailchimp was dedicating essentially no resources to its upkeep. I benefited by switching to Substack just as it was generating a lot of buzz and signing up a lot of high-profile writers for the platform.
I also benefited from switching my article publishing from Medium to the newsletter. This led to a sharp increase in social media shares that pointed directly to the newsletter itself, increasing my conversion rate. I wrote about why Apple's launch of a daily newsletter was a big deal, why Patreon's $1 million milestone was so significant, and why the major tech platforms lost interest in streaming live sports. Of all my monthly output, the writing I enjoy most is the stuff I write for this newsletter, and my only regret is that I didn't produce more of it.  
Brief thoughts on the decade
Given that we've crossed into the 2020s, many writers have also published lengthy articles looking back at the last decade. I'll mostly refrain from that, other than to say that the 2010s were a frustrating decade for me. I continually tried to wrestle my Crohn's disease into submission, to the point where I was actually contemplating life-altering surgery. I battled with weight gain, slowly accruing 35 pounds despite near constant dieting and exercise.
Most frustrating of all was my career. I took several entrepreneurial risks over the last several years, burning through considerable financial savings in an effort to build a scalable business. None of those risks paid off in the way I hoped they would, and even though I had plenty of career highlights since 2010, I'm nowhere near where I wanted to be at 35, and my only hope is that those risks will pay off at a later date. That hope is still alive, but somewhat muted. No longer does success feel preordained.
The year ahead
So what are my goals heading into 2020? Healthwise, I'd like to make progress on my competition speed and post significant gains during my races. I have a few ideas on how to switch up my training to increase my endurance, and having more control over my Crohn's disease will make it easier to train without interruption.
Career-wise, my goals are always the same each year: find a way to create more of my own content and monetize it directly. It's not that I don't get any enjoyment out of the consulting work, but I'm happiest when creating content under my own name on subjects I care about. I have a few irons in the fire on this front, and my hope is 2020 is the year that they pay off.
Well, that's all I have for this year's review. As always, thank you for reading, and I'm especially thankful to those who take the time to share my content with others. I wouldn't be where I am now without you.
Toodles!
Did you enjoy this newsletter? Then you should subscribe here:
Simon Owens is a tech and media journalist living in Washington, DC. Follow him on Twitter, Facebook, or LinkedIn. Email him at simonowens@gmail.com. For a full bio, go here.